Brochures
EcoFlex Powder Coating System
Click to Download PDF
Modular, Compact, Energy Efficient, Low Emission
The EcoFlex Powder Coating System advantages include:
Modular
EcoFlex is based on standardized stations, including Cleaning & Surface Prep, Dry-off, Paint Application, Cure and Cool. Expansion and relocation are made easy.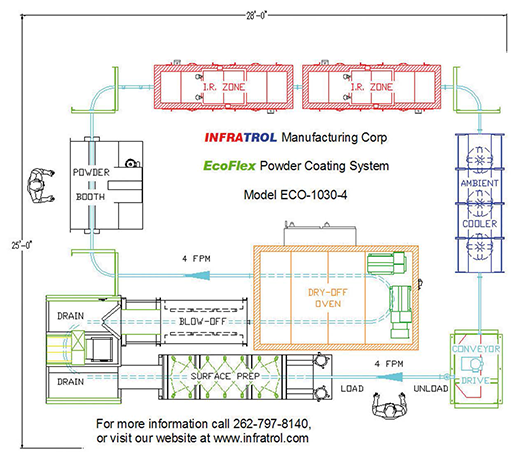 Compact
EcoFlex optimizes use of production floor space. The basic system fits into about 700 ft2.
Energy Efficient
EcoFlex uses an unheated Cleaning & Surface Prep and a Dry-off Oven that recuperates heat exhausted from the IR Cure Ovens
Low Environmental Impact
EcoFlex generates no sludge or hazardous waste
Nothing goes to drain, therefore no water pollution
No hazardous air pollutants (HAPs)
No halogenated hydrocarbons (HHCs)
No chlorinated fluorinated compounds (CFCs)
No SO

x

or NO

x

No ozone depleting substances (ODSs)
Very low VOC emissions with exhaust products converting to CO

2

and water within 48 hours. Total CO

2

emissions are a fraction of systems with gas burners.
The EcoFlex Powder Coating System…
Think Lean… Think
Green
©
The EcoFlex Powder Coating System is available in the following standard sizes:
| | | | | | |
| --- | --- | --- | --- | --- | --- |
| System Designation | Opening Size | Max Length | Design Speed | Foot Print Requirement | Conveyor Capacity |
| ECO-1030-4A | 10" W x 30" H | 30" | 4 FPM | 25' x 27' | 20 lbs/ft |
| ECO-1030-8A | 10" W x 30" H | 30" | 8 FPM | 35' x 40' | 20 lbs/ft |
| ECO-1030-8A | 16" W x 50" H | 48" | 4 FPM | 26' x 27' | 20 lbs/ft |
| ECO-1650-8A | 16" W x 50" H | 48" | 8 FPM | 38' x 40' | 20 lbs/ft |

All EcoFlex Powder Coating Systems are available in 480 Volt, 240 Volt, 208 Volt, or 575 Volt configurations.
Powder Testing... Seeing is Believing
Let us test your parts on our in-house EcoFlex demonstration line. Bring your engineering and operating personnel to be present during the testing. Under carefully simulated manufacturing conditions, they will see first-hand that the process will achieve the desired results, and that it is compatible with your operations. By the time your staff leaves our facilities, they will know the EcoFlex process meets your specifications and exceeds your expectations.
Standard Solutions OR Custom Designed Systems
In addition to the standard equipment detailed inside, INFRATROL can also custom design and build a system for your specific needs. We carefully analyze your total manufacturing and production requirements. We also consider all the elements and variables of your process such as: size, weight, materials and production volumes. We work closely with your engineering, operation and safety staff as well as your other suppliers and your building contractor to ensure that all factors are considered. We utilize our years of design experience, computerized design capabilities and relationships with our vendors to produce the most efficient, cost-effective system. A system that delivers maximum performance and productivity day-after-day, year-after-year.