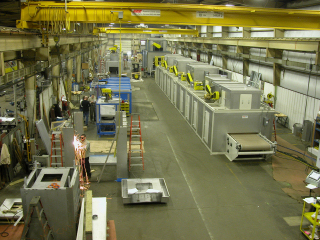 Half a Century of Experience
INFRATROL, LLC has been designing and building engineered-to-order industrial heat processing equipment since 1956.
Additional capabilities include complete finishing systems, including total design, fabrication and installation of ovens, washers, and conveyor systems to meet your total production needs.
Engineered to Order
Curing, drying, aging, or tempering of metal, plastic, or wood, INFRATROL can build a system for precise processing of products as diverse as wood siding to electronic circuit boards.
Skilled engineers, designers, metal workers and electricians transform your specifications into a complete processing system. Factory-trained personnel are available to install, provide field supervision and/or field service work.
Tell us your project requirements or send us the design specifications. A Project Engineer utilizes 3-D drawing techniques to design the sequence of operations (if the equipment is PLC controlled), drawings for approval, and assembly. You review and confirm internal and external dimensions, operator control station location, interfaces with upstream and downstream processes, and all components to be used in the manufacture of your equipment.
The Sheet Metal Fabrication Department cuts and forms all duct work and panels for your project using precision CNC shears, press brakes, and plasma cutters. Full-length pieces of steel are cut, mitered, punched, drilled and welded until complete. All structural steel assemblies are primed and painted with a color of your choice. Sub-assemblies are then transferred to the Assembly Department.
Meticulous Craftsmanship
The Assembly Department builds your equipment to design specifications using Old-World craftsmanship. This is where INFRATROL's quality workmanship is most obvious, as seen in the tight seams, square corners and meticulous attention to detail.
Our electricians mount the operator and control enclosures, install conduit, and wire the equipment. INFRATROL has its own internal standards with regard to temperature and airflow uniformity, heat-up time, and required safety protocols. All (as well as any additional standards you specify) are tested prior to the equipment being released for shipment.
Continuing Support
As an industrial oven manufacturer, INFRATROL provides installation and start-up support for your equipment. Service technicians are available to verify all safety circuitry, train operators and maintenance personnel, and re-run any quality checks required prior to putting the equipment into production.
Outstanding among oven manufacturers, INFRATROL equipment has a history of long and trouble-free service. In the event that a question or a problem does arise, our Service Department is available for spare parts, telephone support, or on-site assistance as required.