Conveyor Ovens
Infrared Ovens
INFRATROL started building Electric Infrared Radiant Ovens in 1956. Radiant heat is often the most efficient method of imparting heat to a part. Radiant Ovens are used with metal, wood, plastic and composite substrates. INFRATROL Radiant Ovens are designed and built to your specific requirements for part size, production rate and thermal characteristics. Below is just a sampling of some of the Radiant Ovens we have built.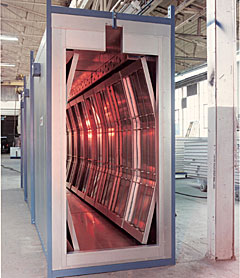 Electric Infrared Oven
Multi-zone electric radiant oven to cure coatings on parts hung from an overhead monorail conveyor.
Reference # 6901
To request more details, click here.
---
Gas Infrared Oven
Gas radiant oven to dry a galvanized coating on a continuous steel strip.
Reference # 6935
To request more details, click here.
---