Infratrol Ships Refrigerator Preheat Ovens to World-Wide Appliance Manufacturer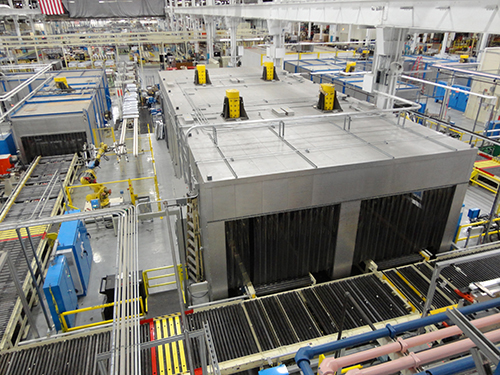 April 3, 2014
Electrically heated preheat conveyor oven
For preheating refrigerator cases
135º normal temperature,
150º maximum temperature
Maximum product size
68" W x 36" H, 100 lb each
30" high conveyor
Special Features
Non-Contact Temperature Sensor – Senses the temperature of the case at the last position inside the oven.
Closed-Loop Temperature Control – Includes magnetic motor starters, complete electrical safety system and separate high limit temperature control.
End Curtains – Product openings feature hanging vinyl curtains rated for the maximum oven temperature, to reduce heat spillout.
Circulation Ducts:  Side mounted aluminized steel air supply ducts equipped with high velocity nozzles to direct the air flow directly onto the work from both sides.
Electrical Heating Elements: Electric resistance heater system consisting of Incoloy elements, mounted in the recirculation air stream to provide maximum heat transfer.
Ref #7645