Infratrol Ships Electric Cure Oven to Aerospace Customer
February 4, 2013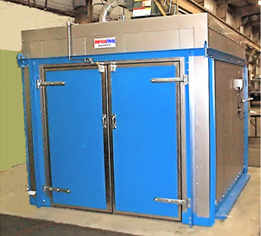 Mike Grande, Vice President of Sales at Infratrol Manufacturing, announced the shipment of an Electrically Heated Batch Cure Oven to an aerospace customer in Mexico.
The standard batch oven, designed to cure coating of aircraft tubing, operates at 120°F with 80 percent relative humidity. The 200-cubic foot oven has double doors, stainless steel interior, and full-feature controls.
"It has some unique features," says Grande. "The stainless steel air supply ducts have high-velocity slotted nozzles and a recirculation system that controls the temperature and humidity."
Other features include fused control circuit transformer, 5-step progressive sequencer, pilot lights, two low-water cutoffs, two high-pressure switches, pressure gauge, 32-gallon feed system with pre-heater and automatic blow-down system.
"The whole thing is pre-piped and skid mounted," says Grande. "It's a beautiful batch oven system."
Infratrol designs and manufactures industrial ovens and washers, powder coating and painting systems, and standard batch curing and aging ovens.
For more information, contact Infratrol Manufacturing.