Infratrol Ships Custom-Engineered Pulp Packaging Drying Oven
January 29, 2013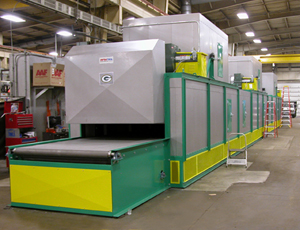 MILWAUKEE – Infratrol Manufacturing announced the shipment of a custom-engineered Pulp Packaging Drying Oven. The oven is used for drying molded pulp made from recycled paperboard or newsprint.
Pulp packaging drying ovens have become increasingly important in the grow
ing field of green packaging. Molded pulp is a sustainable packaging material used for product protection or for food service trays and beverage carriers. Other typical uses include end caps, trays, bowls or clamshell containers.
"The dryer has several unique characteristics," says Infratrol's Mike Grande, Vice President of Sales. "The conveyor system minimizes part marking, and the filtration system keeps the heater house clean and free of pulp debris."
Infratrol has found interest for the drying oven among electronic equipment packagers, cellular phone makers, and other household and hardware customers.
"The pulp dryer is ideal for very high-speed, high-capacity molding equipment," says Grande. "We see opportunities for use in the production of drink trays, cup holders, wine or liquor shippers, egg trays or any kind of industrial protective packaging."
Infratrol Manufacturing designs and manufactures industrial ovens and washers, powder coating and painting systems, and standard batch curing and aging ovens.

For more information, contact Mike Grande.